Het is met genoegen dat we u op de hoogte stellen van een opwindende nieuwe ontwikkeling bij Groencentrum de Mortelen. We hebben onlangs besloten om ons assortiment uit te breiden en nu bieden we ook een selectie van verfrissende frisdranken aan voor een bijzonder scherpe prijs.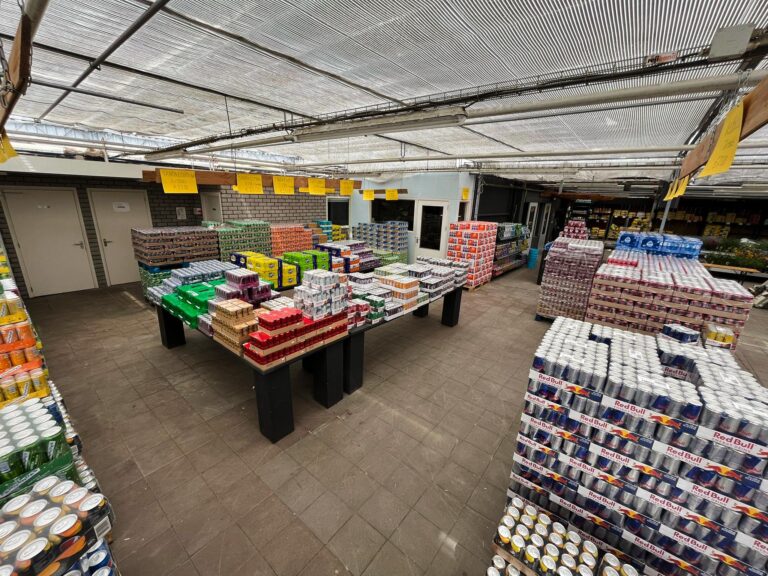 Bij Groencentrum de Mortelen hebben we altijd gestreefd naar het leveren van hoogwaardige producten en diensten aan onze gewaardeerde klanten. We geloven dat deze toevoeging aan ons aanbod van producten een geweldige manier is om onze klanten nog beter van dienst te kunnen zijn. Of je nu een verfrissend drankje wilt tijdens het winkelen of gewoon even wilt ontspannen op ons gezellige terras, wij hebben nu de perfecte opties voor je beschikbaar.
Kom langs bij Groencentrum de Mortelen en ontdek zelf ons uitgebreide assortiment aan verfrissende frisdranken.
 

 

Frisdranken

 

24

 

Coca Cola

€ 13,00

24

 

Coca Cola Zero

€ 13,00

24

 

Coca Cola Light

€ 13,00

24

 

Coca Cola Cherry

€ 13,00

24

 

Coca Cola Vanille

€ 15,00

24

 

Coca Cola Lime

€ 15,00

24

 

Coca Cola Zero Cherry

€ 15,50

24

 

Coca Cola Zero Vanille

€ 15,50

24

 

Coca Cola Zero No Caffeine

€ 15,50

12

 

Coca Cola Zero Lemon

€   7,50

24

 

Fanta Orange

€ 13,00

24

 

Fanta Orange zero

€ 13,00

24

 

Fanta Orange zero (NL)

€ 15,00

24

 

Fanta Lemon

€ 13,00

24

 

Fanta Lemon Zero

€ 15,00

24

 

Fanta Exotic

€ 13,00

24

 

Fanta Exotic Zero

€ 15,00

24

 

Fanta Strawberry/kiwi

€ 13,00

24

 

Fanta Elderflower Lemon

€ 13,00

24

 

Fanta Cassis

€ 17,00

24

 

Fanta Naranja

€ 18,00

24

 

Fanta Limon

€ 18,00

12

 

Fanta WTF Pink

€   9,50

24

 

Pepsi Cola

€ 11,00

24

 

Pepsi Max

€ 11,00

24

 

Pepsi Max Lemon

€ 11,00

24

 

Pepsi Max Cherry

€ 11,01

24

 

Pepsi Max lime

€ 11,00

25

 

Pepsi Max Mango

€ 15,00

24

 

Pepsi Twist

€ 11,00

24

 

Lipton Ice Tea Sparkling

€ 13,50

24

 

Lipton Ice Tea Green

€ 13,50

24

 

Lipton Ice Tea Green Zero

€ 13,50

24

 

Lipton Ice Tea Peach

€ 13,50

24

 

Lipton Ice Tea Lemon

€ 13,50

24

 

Lipton Ice Tea Sparkling Zero

€ 13,50

24

 

Lipton Ice Tea Mango Zero

€ 13,50

24

 

7UP

€ 11,00

24

 

7UP light

€ 12,00

24

 

7UP Exotique

€ 14,00

24

 

7UP Cherry

€ 14,00

24

 

7UP Mojito

€ 14,00

24

 

Sisi Orange Zero

€ 13,00

24

 

Fuze Tea Peach Black Tea (DK)

€ 12,50

24

 

Fuze Tea Green Mango Cham.

€ 15,50

24

 

Fuze Tea Black Tea Peach Hibis.

€ 15,50

24

 

Fuze Tea Sparkling Black Tea

€ 15,50

24

 

Fuze Tea Green Tea

€ 15,50

24

 

Sprite

€ 13,00

24

 

Sprite zero

€ 15,00

24

 

Fernandes Rood

€ 17,00

24

 

Fernandes Groen

€ 17,00

24

 

Fernandes Oranje

€ 17,00

24

 

Fernandes Geel

€ 19,00

24

 

Fernandes Blauw

€ 19,00

24

 

Chocomel

€ 22,00

24

 

Chocomel Suikervrij

€ 22,00

24

 

Fristi

€ 22,00

24

 

Dr. Pepper

€ 13,50

24

 

Dr. Pepper Zero

€ 13,50

24

 

Dr. Pepper Cherry

€ 13,50

12

 

Dr. Foots

€   6,50

12

 

Dr. Foots Zero

€   6,50

24

 

Mountain Dew (DE)

€ 12,50

24

 

Mountain Dew (DE) Citrus Blast

€ 12,50

24

 

Uludag

€ 16,00

24

 

Uludag Orange

€ 16,00

24

 

Schwip Schwap

€ 10,00

24

 

Mirinda Fraise

€ 12,00

24

 

Mirinda Orange

€ 11,00

24

 

Schweppes Virgin Mojito NL

€ 16,00

24

 

Schweppes Agrumes NL

€ 16,00

24

 

Schweppes Agrumes Zero NL

€ 16,00

24

 

Schweppes Lemon NL

€ 16,00

24

 

Schweppes Bitter Lemon NL

€ 16,00

24

 

Schweppes Pink Tonic NL

€ 16,00

24

 

Schweppes Indian Tonic NL

€ 16,00

24

 

Schweppes Indian Tonic Zero NL

€ 16,00

24

 

Schweppes Ginger Ale NL

€ 16,00

24

 

Schweppes Mojito PL

€ 12,50

24

 

Schweppes Cream Soda (HKG)

€ 25,00

24

 

Crodo Lemon Soda

€ 21,00

24

 

Crodo Mojito Soda

€ 21,00

24

 

Crodo Orange Soda

€ 21,00

24

 

Canada Dry Ginger Ale

€ 13,00

10

 

Caprisun Multivitamine

€   3,50

10

 

Caprisun Orange

€   3,50

10

 

Caprisun Mystic Dragon

€   3,50

10

 

Caprisun Safari Fruit

€   3,50

10

 

Caprisun Ice Tea

€   3,50

10

 

Caprisun Monster Alarm

€   3,50

10

 

Caprisun Cherry

€   3,50

10

 

Caprisun Jungle Drink

€   3,50

10

 

Caprisun Elvendrank

€   3,50

10

 

Jaffa Orange Juice

€ 11,00

10

 

Jaffa Multivitamin

€ 11,00

10

 

Jaffa Apple Juice

€ 11,00

10

 

Jaffa Cherry Juice

€ 11,00

24

 

Spa Blauw 0,33 liter

€ 11,00

24

 

Spa Blauw 0,50 liter

€ 12,00

24

 

Spa Rood 0,33 liter

€ 11,50

24

 

Spa Rood 0,50 liter

€ 12,50

6

 

Spa Touch Grapefruit

€   5,00

6

 

Spa Touch Lemon

€   5,00

6

 

Spa Touch Sparkling Munt

€   5,00

6

 

SPa Touch Blackcurrant

€   5,00

6

 

Spa Touch Sparkling Raspb Plum

€   5,00

6

 

Spa Touch Still Raspberry Apple

€   5,00

6

 

Spa Touch Still Lime Jasmin

€   5,00

24

 

Sourcy Naturel

€ 11,50

24

 

Sourcy Sprankelend

€ 11,50

12

 

Feel so Good Watermeloen

€ 17,00

12

 

Feel so Good Happy Lemon

€ 17,00

12

 

Feel so Good Blueberry

€ 17,00

24

 

Hero Cassis

€ 14,00

24

 

Hero Cassis Zero

€ 14,00

24

 

Hero Appel

€ 18,00

24

 

Hero Sinasappel

€ 18,00

24

 

Royal Club Bitterlemon

€ 13,50

24

 

Royal Club Soda Water

€ 13,50

24

 

Royal Club Tonic

€ 13,50

24

 

Royal Club Cassis

€ 15,00

24

 

Royal Club Shandy

€ 17,00

24

 

Royal Club Ginger Ale

€ 13,50

24

 

Oasis Oranje

€ 16,00

24

 

Oasis Rood

€ 16,00

24

 

Oasis Paars

€ 16,00

24

 

Orangina

€ 16,00

24

 

Orangina Light

€ 16,00

24

 

Orangina Rouge

€ 17,00

24

 

Rivella

€ 18,00

24

 

Poms

€ 14,50

24

 

Hawai

€ 14,50

24

 

Hawai Ananas

€ 14,50

12

 

Arizona Green Tea and Honey

€   8,00

12

 

Arizona Ice Tea with Peach

€   8,00

12

 

Arizona Pomegranate Green Tea

€   8,00

12

 

Arizona Spark Green Tea Peach

€   8,00

24

 

Mazaa Tropical

€ 15,50

24

 

Mazaa Banaan

€ 15,50

24

 

Mazaa Guave

€ 15,50

24

 

Mazaa Mango

€ 15,50

12

 

Taksi Tintel

€   9,00

12

 

Taksi Tropisch

€   9,00

12

 

Appelsientje Goudappel

€   13,00

12

 

Eloa Max Aloe Vera drink

€   7,00

12

 

Eloa Max Aloe Vera drink pomegranate

€   7,00

12

 

Eloa Max Aloe Vera drink lychee

€   7,00

12

 

Eloa Max Aloe Vera drink Mango

€   7,00

 

 

 

 

 

 

Energy/Sportdrank

 

24

 

Red Bull

€ 27,00

24

 

Red Bull Light

€ 27,00

24

 

Red Bull Zero

€ 27,00

12

 

Red Bull The Yellow Edition

€ 14,50

12

 

Red Bull The Blue Edition

€ 14,50

12

 

Red Bull The White Edition

€ 14,50

12

 

Red Bull The Red Edition

€ 14,50

12

 

Red Bull The Green Edition

€ 14,50

12

 

Red Bull The Orange Edition

€ 14,50

12

 

Red Bull Organics Viva Mate

€   6,50

12

 

Red Bull Organics Black Orange

€   6,50

12

 

Red Bull Organics Purple Berry

€   6,50

24

 

AA Drink High Energy

€ 18,00

12

 

AA Drink Burner Zero  (blik)

€ 10,00

24

 

AA Drink Isotone

€ 18,00

24

 

AA Drink Isotone Lemon

€ 18,00

24

 

AA Drink Pro Energy

€ 18,00

24

 

AA Drink Hydration zero

€ 18,00

12

 

Monster Energy

€ 15,00

12

 

Monster Energy Ultra White

€ 15,00

12

 

Monster Energy Ultra Paradise

€ 15,00

12

 

Monster Energy Ultra Blue

€ 17,00

12

 

Monster Energy U. Watermelon

€ 15,00

12

 

Monster Energy U. Fiesta Mango

€ 17,00

12

 

Monster Energy Ultra Gold

€ 17,00

12

 

Monster Energy Ultra Violet

€ 15,00

12

 

Monster Energy Absolute Zero

€ 17,00

12

 

Monster Energy Assault

€ 17,00

12

 

Monster Energy The Doctor

€ 17,00

12

 

Monster Energy Ripper Juiced

€ 17,00

12

 

Monster Energy Hamilton Zero

€ 17,00

12

 

Monster Energy Mango Loco

€ 15,00

12

 

Monster Energy Pacific Punch

€ 15,00

12

 

Monster Energy Juiced Monarch

€ 15,00

12

 

Monster Energy Juiced Khaotic

€ 15,00

12

 

Monster Energy Pipeline Punch

€ 17,00

12

 

Monster Energy Punch Mixxd

€ 15,00

12

 

Monster Mule Ginger Brew

€ 15,00

12

 

Monster Energy Nitro Superdry

€ 17,00

12

 

Monster Rehab Lemonade

€ 17,00

12

 

Monster Rehab Peach

€ 17,00

12

 

Monster Energy SF Watermelon

€ 20,00

12

 

Monster Energy SF Mean Green

€ 20,00

12

 

Monster Energy SF Subzero

€ 20,00

12

 

Monster Energy Mega 553ml

€ 21,00

12

 

Monster Energy Aussie Style

€ 15,00

24

 

Slammers Energy Rood

€ 10,00

24

 

Slammers Energy Blauw

€ 10,00

12

 

Shakura Energy

€   6,00

24

 

Freego Classic Blauw

€   9,00

12

 

Tiger Energy Rebel & Sonic

€ 16,00

12

 

Tiger Energy Newschool Classic

€ 14,00

12

 

Tiger Energy Mango Bomb

€ 14,00

12

 

Tiger Energy Ufo Cactus

€ 14,00

12

 

Tiger Energy Granat Explode

€ 14,00

12

 

Tiger Energy Hyper Thunder

€ 14,00

12

 

Tiger Energy Hyper Storm

€ 14,00

12

 

Tiger Energy Hyper Splash

€ 14,00

12

 

Tiger Energy Hyper Banger

€ 14,00

12

 

Tiger Energy Arbuzi

€ 14,00

12

 

Tiger Energy Bubblegum

€ 14,00

 

 

 

 

 

1

 

USA Drinks

Prime Rood

 

  €9,50

1

Prime Blauw

  €9,50

1

Prime Ice Pop

  €9,50

1

Prime Groen

  €9,50

12

 

7UP

  €13,50

12

 

7UP Cherry

€ 13,50

12

 

Barq's Red Creme Soda

€ 13,50

12

 

Barq's Cherry Soda

€ 13,50

12

 

Canada Dry Ginger Ale

€ 13,50

12

 

Canada Dry Ginger Ale R.Lemon

€ 13,50

12

 

Coca Cola

€ 13,50

12

 

Coca Cola Cherry

€ 13,50

12

 

Coca Cola Cherry Vanilla

€ 13,50

12

 

Coca Cola Cafeïne free

€ 13,50

12

 

Coca Cola Vanilla

€ 13,50

12

 

Coca Cola Zero Cherry

€ 13,50

12

 

Crush Grape Raisin

€ 13,50

12

 

Crush Grape Peach

€ 13,50

12

 

A&W Root Beer

€ 13,50

12

 

A&W Zero Sugar

€ 13,50

12

 

Big Red

€ 13,50

12

 

Dr. Pepper

€ 13,50

12

 

Dr. Pepper Cherry

€ 13,50

12

 

Dr. Pepper Cherry Vanilla

€ 13,50

12

 

Dr. Pepper Cream Soda

€ 13,50

12

 

Dr. Pepper Vanille float

€ 13,50

12

 

Dr. Pepper Zero sugar

€ 13,50

12

 

Dr. Pepper Zero sugar Cherry

€ 13,50

12

 

Dr. Pepper Zero Cream Soda

€ 13,50

12

 

Dr. Pepper Strawberry Cream zero

€ 13,50

12

 

Dr. Pepper Strawberry Cream

€ 13,50

12

 

Fanta Orange

€ 13,50

12

 

Fanta Berry

€ 13,50

12

 

Fanta Grape

€ 13,50

12

 

Fanta Peach

€ 13,50

12

 

Fanta Pineapple

€ 13,50

12

 

Fanta Strawberry

€ 13,50

12

 

Mountain Dew

€ 13,50

12

 

Mountain Dew Diet

€ 13,50

12

 

Mountain Dew Voltage

€ 13,50

12

 

Mountain Dew Baja Gold

€ 13,50

12

 

Mountain Dew Baja Mango Gem

€ 13,50

12

 

Mountain Dew Major Melon

€ 13,50

12

 

Mountain Dew Code Red

€ 13,50

12

 

Mountain Dew Spark

€ 13,50

12

 

Pepsi Diet

€ 13,50

12

 

Pepsi Wild Berry

€ 13,50

12

 

Sunkist Cherry Lemonade

€ 13,50

12

 

Sunkist Berry Lemonade

€ 13,50

12

 

Sunkist Cherry Grape

€ 13,50

12

 

Sunkist Strawberry Lemonade

€ 13,50

12

 

Sprite Lemon Lime

€ 13,50

12

 

Sprite Spiced Cranberry

€ 13,50

1

 

Monster Java Loca Moca Coffee

€   5,00

1

 

Monster Java Mean Bean Coffee

€   5,00

1

 

Monster Java Oatmilk Coffee

€   5,00

1

 

Monster Java Salted Caramel

€   5,00

1

 

Monster Java Swiss Chocolate

€   5,00

1

 

Monster Energy Nitro Superdry

€   5,00

1

 

Monster Energy Lo-carb

€   5,00

1

 

Monster Energy Rehab Peach

€   5,00

1

 

Monster Energy Rehab Lemonade

€   5,00

1

 

Monster Energy Peachy Keen

€   5,00

1

 

Monster Energy Ultra Rosa

€   5,00

1

 

Monster Energy Ultra Sunrise

€   5,00

1

 

Monster Energy Watermelon

€   5,00

1

 

Monster Energy Ultra White

€   5,00

 

 

 

 

 

 

Alcoholische dranken

 

24

 

Bavaria Bier

€ 17,00

24

 

Bavaria 0,0% Radler Citroen

€ 13,50

24

 

Bavaria 0,0% Fruity Rosé

€ 13,50

24

 

Bavaria 0,0% Gingerlime

€ 13,50

25

 

Bavaria 0,0%

€ 13,50

12

 

Bavaria 8.6

€ 17,00

24

 

Heineken Bier

€ 19,00

24

 

Kroon bier

€ 11,50

24

 

Hertog Jan bier

€ 20,00

24

 

Amstel bier

€ 19,00

12

 

Palm Bier

€ 15,00